Translation and adaptation from English and German into French
Proofreading of French texts
Welcome
On Monday September 5th, 1994  I took my dictionaries and my computer under my arm and set out to become a freelance writer/editor in advertising. I spent the next 8 years creating incisive headlines, powerful slogans and persuasive texts for more than 600 companies, advertising agencies and brands.
By 2002, I was increasingly being asked for translations/adaptations into French, particularly in my specialist areas, so I decided to focus exclusively on providing this service.
Today, at 55%*, I translate and adapt from German or English into French (not vice-versa) and edit French texts, for all kinds of material: presentations, press releases, articles, websites, brochures, catalogues, leaflets, other publications,  press advertisements, posters, radio and TV spots, letters, mailings, packaging, speeches, menus, songs, books, labels…. or anything else you might want.
My particular interests are in the environment, social policy, renewable energy, low-impact transport, bio agriculture and food processing, social solidarity programmes, waste management. These are areas that reflect my values, experience and my everyday life.  And since I have always lived in the Swiss Romande, the texts I adapt or edit  for you will read as if they, too, were conceived here!
* In 2019, from 14th January to 22nd March, from 23rd April to 7th June, from 5th to 30th August, from 17th September to 4th October, from 4th November to 13th December. Download the 2019 work plan.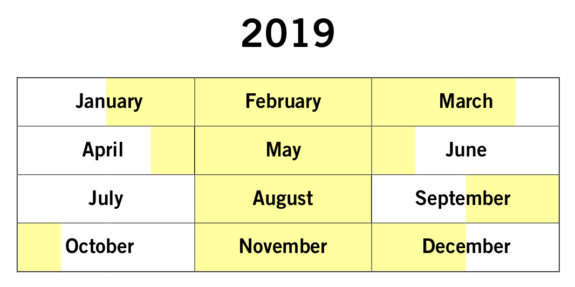 (Yellow = Go to work!)